Welcome to the ConversioBot Review!
Name: ConversioBot
Website:www.conversiobot.com
Price: $37
Owners: Simon Woods, Giri Prakash, and Imran S.
Best For: Newbie friendly, Bloggers, eCommerce websites, Website Owners, Email List Owners, It's a Make Money Online Opportunity, Local business owners, Webinars registration pages, and affiliate websites
​SUMMARY: ConversioBot is an artificially intelligent chatbot, that doesn't require you to know a single line of code. Plus, it allows you to manage your blog or website without hiring a human sales agent while increasing your sales and leads.
Disclosure: This post may contain affiliate links, meaning if you click on a link and purchase a product, I may receive a small commission. Don't worry this doesn't harm you in any way, nor will you be charged more.
​Keep reading this a must read if you have a blog or website. Let this Al technology takeover and finally give you the results you've been searching for, check this formula out. Your blog + the ConversioBot = Exploding sales and increased leads.
​Pin Me Please! 😀
​ConversioBot Overview
Do you have a blog or website? Are you struggling with sales? Would you like to increase your email subscribers?
Don't feel bad; you're definitely not alone. There so many business owners that are struggling to increase their sales, and or gain leads.
Worry no further; I want you to prepare yourself to be shocked at how ConversioBot can automatically explode your sales and massively build your email list.
When I first came across ConversioBot, I didn't think this little chat box would work. Besides, it was another one of those Clickbank products, that usually are full of hype and prove to be useless. After I placed the single line of code on my website, no kidding, I had immediate results.
Before, I could even have my chatbot adequately set up. I had gained four emails within 15 minutes. Indeed, I was very impressed.
Today, I am introducing you to the ConversioBot. It says what it does and not only that. It will over deliver. Trust me; I usually don't recommend Clickbank products but, this one, I must admit is worth the try.
So, What Is This ConversioBot All About?
It's predicted that 85% of customer interactions will be with bots? Did you ask, why? That's because of the rise of "Al Technology."
The purpose of the chatbot is to help ease the pain that many industries are facing. Above all, it helps scale and increases customer and business relationships. So what's in it for you?
ConverisoBot is accessible at any time, you place it on your website. Furthermore, it's very cost effective, hiring human assistance could cost you hundreds, maybe even thousands a month.
Additionally, you're only one human being, which means you can assist so many people at one given time. ConversioBot will be there to rescue you and eliminate the problem that you might face if many customers needed to be assisted at once, while you're away.
More Companies Are Using ChatBots
Besides, just the other day I came across the Dominos website, and they are already using "Al Technology." It takes your orders. It doesn't stop there:
Facebook
Spotify
H&M
Starbucks
Disney
Pizza Hut
The Wall Street Journal
Staples
So, what do ConversioBot and the above brands have in common? They all are using similar Al Chatbot Technology. Regardless, The founders of ConversioBot Simon, Imran, and Giri claimed to have used this highly sophisticated ChatBot to automatically build a massive list of 11,643 subscribers within 7 days. They also have had 6,386 sales within only 6 months and within 6 hours of their conversion rate was increased by 198%.
Admittedly, I thought this was all hype, and it could be a little exaggerated. However, I decided to start an email list with Aweber recently. I started with 0 subscribers, and within 15 minutes I had 4 emails, so I've tested this ChatBot myself, and yes it increased my email subscribers by instantly within those few minutes.
Furthermore, it increased my new subscriber list so fast, that I took my ConversioBot down, because, I didn't expect anyone to chat right away and truthfully, I wasn't fully prepared.
ConvserioBot Isn't The Only Bot
Have you heard of the Al system called Maya? It's the first system on the market that can conduct job interviews. Don't worry bots aren't coming for anyone's jobs. Instead, they're allowing humans to be more productive and to be more helpful to other humans.
Then there is Estherbot, this bot handles resumes, while the TaraBot will help compile a team of workers for different projects.
Anyhow, Mark Zuckerberg revealed that Chatbot would be the secret to Facebook success. Facebook has claimed to have taught Chatbots' to negotiate with humans and guess what?
The Chatbot did it successfully. Above all, during this negotiation process, the human didn't even realize they were negotiating with a bot.
Amtrak which is a billion dollar company they are claiming to have an 800% ROI with chatbots.
Moreover, by 2021 it is predicted that companies will spend more money on chatbots than they will with implementing mobile apps, and by next year the average person is predicted to talk with a chatbot more than their spouse.
Well, maybe not exactly but, you know what I mean. The chatbots are predicted to increase soon.
PROS
​Low-Cost

​No Monthly Fees At This Time

​Easy To Use

​Legit

​It Works

​No risk
CONS
​Training May Be Limited For Some
​You May Need A Website To Benefit From ConversioBot
​Who is ConversioBot For?
​ConversioBot can work for any blogger, website, business owner or even someone looking for a way to earn an extra income.
​ConversioBot Tools & Training
Within the member's area you will receive a right amount of tools and training for the small investment of $37.00 one time fee. Here is what you can expect.
Chatbot Templates – with over 6 categories and 30 templates, I'm sure you will find a Chatbot that will work for you and your business.
Chatbot Training – This training is supposed to guide you through the process of building your chatbot. However, the training videos to be a bit longer than what they are, however, the training is detailed, and you will get about 11 sections with about 2 hours and 42 minutes of all the video training you need to get the bot up and running.
VIP Training – has about 6 training sections with 2 hours and 27 minutes of training videos, which helps you get the most out of your bots by using simple tricks to make your ConversioBot more engaging.
Webinar – How To Make Your Visitors Experience Engaging and Profitable With Full Page Chatbots– this webinar is more geared towards how the owner of ConversioBot, is impressed with Affiliate Bot.
Of course, each will have their own opinions. However, I didn't find Affiliate Bot too useful but, it could have improved since I reviewed the product.
At any rate, know you don't have to purchase Affiliate Bots to get the best use out of ConversioBot. They are two different software and more importantly, they operate on two various networks.
Here Are The Tools That Come With This Bot
There are a data and analytics that monitors the desktop and mobile open rate of your ConersioBot. You can set goals for each chatbot that you build, and it will follow the results.
VIP Support – And there is 24/7 Support, 7 Days A Week! – They usually reply within 1 business day.
​ConversioBot Support
The support with ConversioBot is terrific. Not only is the tech support side of things fast and responsive. I immediately used the tech support because, I wasn't sure how to set up my affiliation with the company but, without further ado, tech support responded within less than 12 hours.
At any rate, this is the first Clickbank product where I have personally talked to one of the owners. After purchasing ConversioBot, Simon one of the owners sent out an email.
Besides, I wanted to know if he was real. Plus, I also wanted to see if he read his emails and would he respond. To my surprise he did. I sent Simon my goals as he requested plus, I asked him a few questions to include the curious question of "Are you real?" and he did respond humanely, to let me know that he was real.
​The ConversioBot Price
​
Although, there are several packages with ConversioBot. The investment of this ChatBot is cost effective compared to hiring a human. The entrance price to ConversioBot is $37 at the time of this post.
The additional package prices are as follows:
ConversioBot Done For You Pro – $97
Auto ChatBot Builder – $47
ConversioBot Extreme – $67
ConversioBot Agency – $87
Although ConversioBot has focused on adding insane value to your website or blog. There is more to the ConversioBot.
Three Elite Bonuses…which I found helpful.
Elite Bonus #1 –
Done For You ChatBot valued at $147 –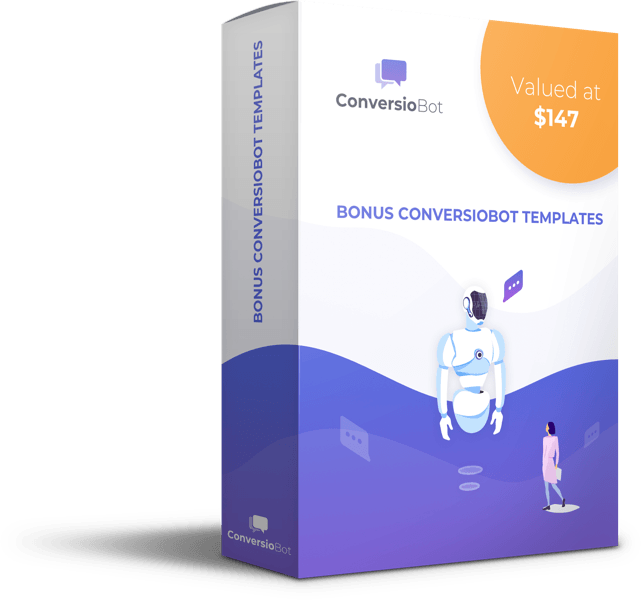 ​The done for you bots, is what allowed me to have a bot up and running literally within 15 minutes. That is also the same way; I gained 4 unexpected email subscribers. I eventually took the done for you Bot done and created my own Bot, which then caused me to use the next bonus. The training.
Elite Bonus #2 –
VIP Training On Selling Bots – Valued at $19
The training, that is provided in the member's area is somewhat helpful. I thought at; first, the training would give me instructions on how to set the bot up. Instead, it was moreover how to sell the Bot to a huge audience.
I must admit that it isn't the training that I was looking for. I was more concerned on if this ConversioBot gadget worked. With that said, I must admit the training, isn't the most helpful, if you're trying to learn how to create a new bot. I think training can be improved.
Elite Bonus #3 –
Bonus Bot Images – Valued at $47 –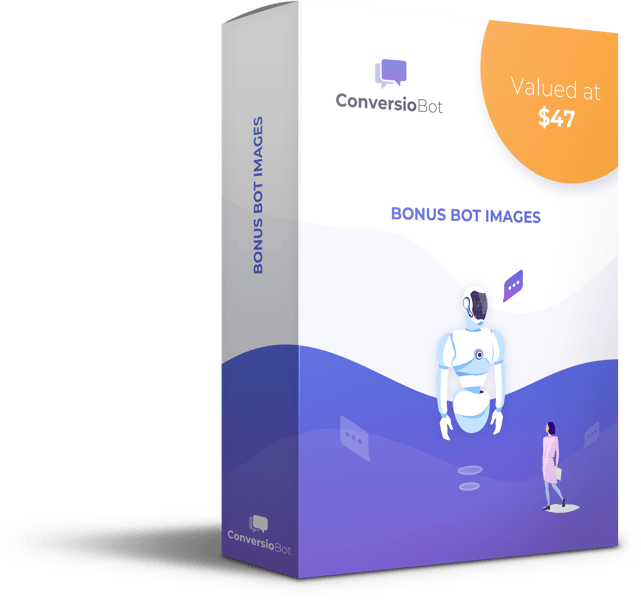 ConversioBot FAQ's
#1) How many templates will you get for the $37.00?
You will get 30 free templates and for almost any company.
#2) Does this bot come in different languages?
Yes, it does come in many different languages.
#3). Does this have to be downloaded to your computer?
No, ConversioBot is a cloud-based software that has an up time of 99.9% of the time.
#4). Is it easy to use?
Yes, ConversioBot is easy to use even for a newbie.
#5). How many bots can you create?
There is no limit.
#6) Are you able to get the chatbot up in a short time?
Yes, you can upload the done for you bot within like 15 minutes. Or you can create your own bot which takes about an 1 hour or so.
#7). Does it work with both MAC and PC?
Yes, it works with both. Plus, I've tested this with mobile and table it works.
#8). Is there a refund?
Yes, there is a 30-day unconditional money back guaranteed.
#9). Do you have to upgrade?
No, you don't have to upgrade. The ConversioBot will work correctly with even the one-time fee of $37.00.
#10). Is there a monthly fee?
No there's not a monthly fee. At this time, it's a one time fee.
#11). Does the software or product stay updated?
Yes, since this product launched in 02/2019, the product has updated and improved several times.
​My Final Opinion Of The ConversioBot Review
In all honesty, yes, I would highly recommend the ConversioBot. I enjoy my little chatbot. Not only does, but it also helps engage my website visitors. It also helps me understand what my visitor is looking for and where I can improve.
In return, this results in a more positive experience for your audience, because, it helps you understand what your reader needs. Plus, with technology increasing chatbots are becoming more popular, even the big brands are using them.
ConversioBot is a great deal. So, should you invest today? Yes, not only would you be getting access to the price ever for the ConversioBot but, you'll be able to spend without a risk. There is a 30-day money back guaranteed. What are you waiting for try ConversioBot Today?
Now It's Your Turn
Well, I hope you have enjoyed the ConversioBot Review. Do you have any questions? Have you ever used ConversioBot? What is your experience?
[tcb-script async="" defer="" src="//assets.pinterest.com/js/pinit.js"][/tcb-script]